Hello OCRS families,
Happy Super Bowl Sunday! It's our final week of school before the February Break and it appears that we're going to be having some spring-like weather all week!
"Wear Red and Pink" Spirit Day, Tuesday 2/14
Because Valentine's Day is Tuesday, we are going to celebrate "Wear Red and Pink" Spirit Day this Tuesday, February 14th. We invite all students and staff to wear red and pink gear!
Valentine's Day Cards
Students can and are welcome to bring in Valentine's Day cards (no food or candy) for their classmates! There are two simple guidelines for any student bringing in Valentine's Day cards.
Please make sure that there is a card for EVERY child in the classroom. We want to make sure that no children within a classroom are left out. If you're not sure how many students are in your child's classroom, please reach out to your child's classroom teacher.
For the safety of our students and staff with food allergies, no food or candy can be included with the Valentine's Day cards. Thank you for your understanding and cooperation.
That's it! Please know that no family should feel obligated to send in Valentine's Day cards. It's completely up to you as a family.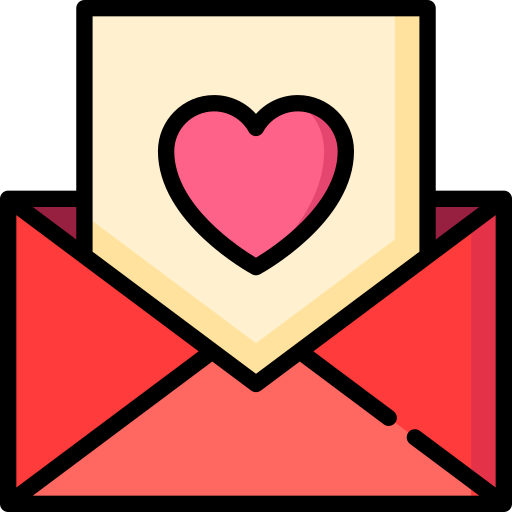 Bring Someone Special to Lunch Days
We are partnering with Chartwells, the district food service provider, to offer "Bring Someone Special to Lunch" days to allow parents/guardians to come to school and join their child for lunch. The first two days for 2nd, 1st, 5th, and 4th grade families were a lot of fun when parents and students got to spend some time together at school!
We are spreading these days out to ensure that we have enough space to accommodate parents/guardians and also allow for the Chartwells staff to be able to plan to provide meals for interested parents/guardians. Here is the remaining date and time that we have planned for each grade level:
Wednesday, 2/15 for Kindergarten (11:30 AM) and grade 3 (12:10 PM)
In order to make sure that this is a fun, organized and safe event, each parent or guardian MUST sign-up to attend ahead of time. Also, parents and guardians should attend on the specific date and time that their child's grade level is scheduled. If for some reason your family requires more flexibility due to unique circumstances, you can indicate that on the linked form and Mr. Barrette will reach out to discuss options.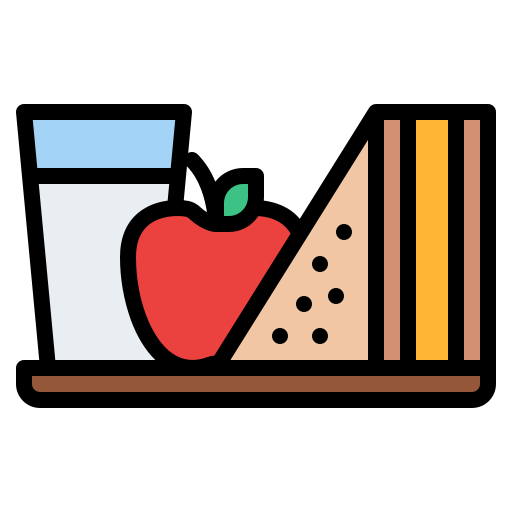 Online chat, apps, and social media causing conflicts during school
Mr. Barrette already sent out a special message about how online chat, games, and social media apps are causing conflicts between students during the school day. Because this is such an extremely important issue across our entire community, we are including the information and a link to resources again in the weekly update.
We have noticed (and families have reported to us) an increase in conflicts and disagreements between students that have been happening online outside of school. These conflicts have been happening via online chat, social media apps, and online games. Unfortunately, even though these conflicts are taking place outside of school, they are causing problems and interrupting learning during the school day for both students and teachers. Students are bringing into school the arguments and disagreements that took place online while outside of school. Students are also talking about and repeating things in school that they are seeing and hearing while online or using social media, especially YouTube, TikTok, and chat within games. Some of these things students are saying and repeating are inappropriate for school and oftentimes the students themselves don't fully understand what they are saying.
Please read the entire message with links to resources for parents and families at https://oldcounty.smithfield-ps.org/article/997755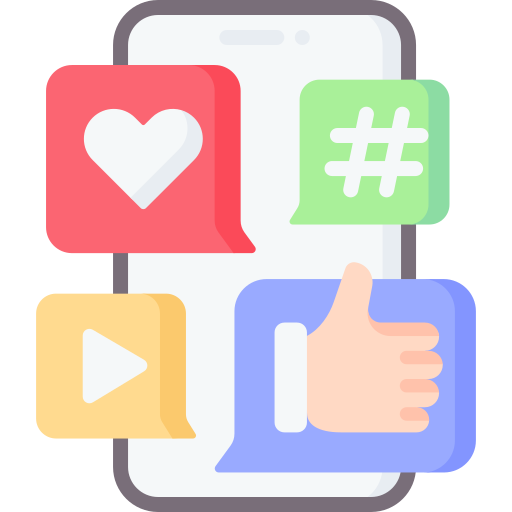 Kids Heart Challenge "Jump Rope for Heart"
It's time for the Kids Heart Challenge! Old County Road School is helping the American Heart Association build healthier lives free from cardiovascular diseases and stroke. The Kids Heart Challenge is a community service opportunity designed to help students learn about the importance of making healthy choices to take care of their hearts. Students will also help improve the health and hearts of others by collecting donations in support of the American Heart Association and its research, education and advocacy work right here in Rhode Island and across the country.
The Kids Heart Challenge will take place during Physical Education classes February 6th through February 17th. All students in grades K through 5 will join in heart healthy activities during P.E. with Mr. Gruczka. If your family would like to help with a donation, please consider using the American Heart Association's online donation program. We understand every family may not be able to donate, however, all students will enjoy and learn from the heart healthy educational experiences that will be shared during our program. We encourage online donations. To get started: Go to https://bit.ly/KidsHeartChallenge23 and Sign up to participate! (*You may also use your mobile device. Visit your Mobile App store and search: Kids Heart Challenge to download the free app!)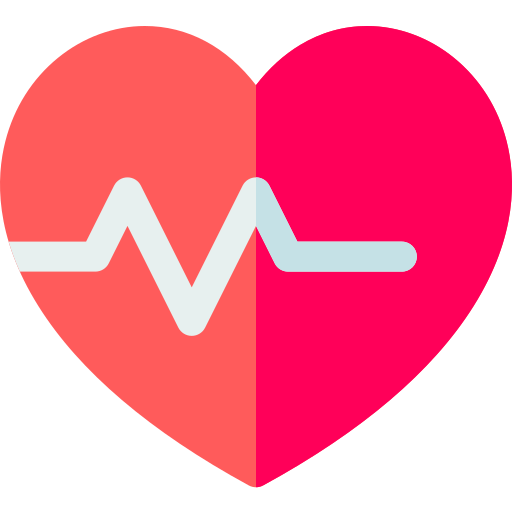 Smithfield Little League Baseball Registration
2023 Baseball Registration is now open! To register for the Spring 2023 Season, please go to the following website https://clubs.bluesombrero.com/smithfieldrill. Registration closes on February 17, 2023.
See the linked flyer for additional information.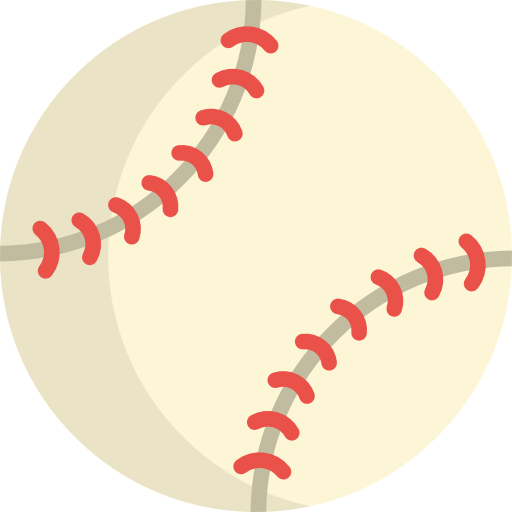 Ski and Snowboard Trip
The Smithfield Parks and Recreation Department is offering a Ski & Snowboard Trip to Smithfield families on February 21st. Details can be found on the flyer below. Interested families can sign-up for the trip at https://www.eventbrite.com/e/520062620297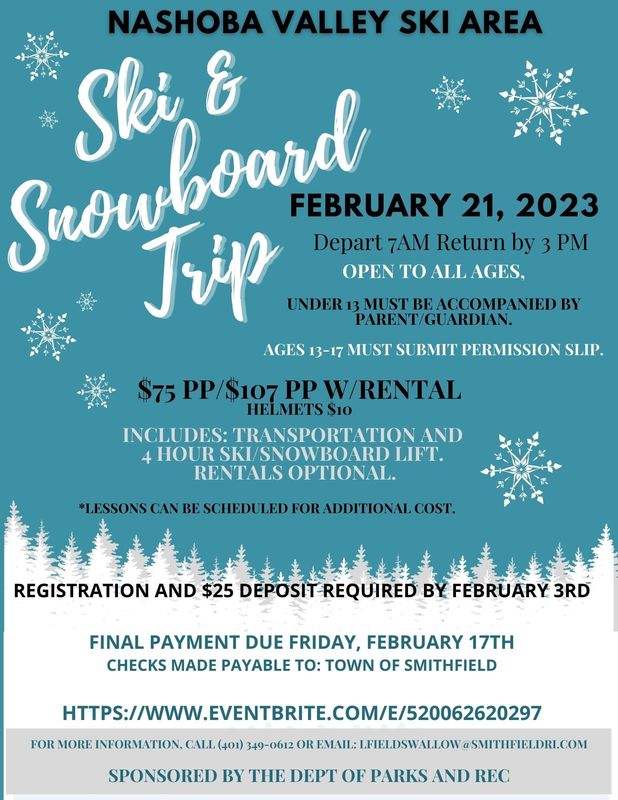 Ocean View art competition and exhibition
The deadline for Rhode Island K-12 students to sign up to participate in the URI Graduate School of Oceanography (GSO) Ocean View art competition and exhibition is fast approaching. To participate in the competition and exhibition, a completed commitment form must be submitted by March 1, 2023. Ocean View is a competition that encourages youth to interpret the ocean through visual art. Check out https://web.uri.edu/gso/outreach/art/ for more information. There are also information flyers in English and Spanish.
Upcoming Dates and Events
View and subscribe to the OCRS Public Events Calendar at https://oldcounty.smithfield-ps.org/o/old-county-road-elementary/page/monthly-calendar. Clicking on the "Add to Google Calendar" to subscribe to the calendar on your own calendar app.
5th grade committee meeting, Monday February 13th at 7:00 PM in the OCRS Media Center
Valentine's Day Spirit Day, Tuesday February 14th
Bring Someone Special to Lunch for Kindergarten and 3rd grades, Wednesday February 15th
NO SCHOOL, Winter Break, February 20th through February 24th
BINGO Night, Friday March 10th in the OCRS cafeteria
Thank you,
Mr. Barrette
---
Bring Someone Special to Lunch, Week 2