Hello OCRS families,
Dr. Paolucci already announced that tomorrow will be a distance learning snow day due to the projected time frame of the storm. All teachers sent students home with Chromebooks today in preparation for tomorrow and reviewed with students how to login to their teachers' video Meet.
Schedule for the day
Here is an outline for the distance learning snow day and the schedule. There are also some instructions to help any families that have not yet had their student engage in distance learning.
https://docs.google.com/document/d/1DJ54iGDo-Fanr3tFn9Kh9njxPRHKlROzpUtWsSpxTP4/edit?usp=sharing
Here is the overall schedule that elementary students will follow on a distance learning snow day: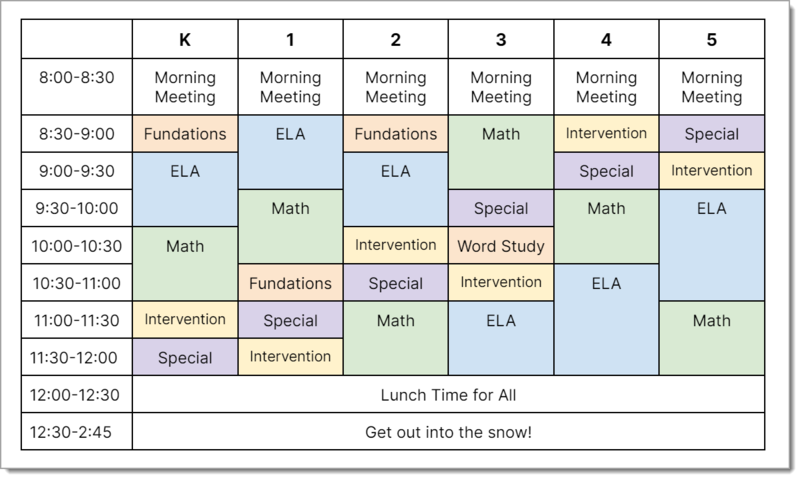 In the case of widespread power or internet outages, students will complete a paper packet sent home by their teachers instead of using their Chromebooks. The packet will be distributed to students when there is snow in the forecast.
Getting technical support
If you student has technical issues with their Chromebook, the very thing to do is hold the Chromebook's power button down UNTIL the screen goes black (it can take a little while). After the screen goes black, wait a few seconds and then press and release the power button to start it back up.
If you continue to have issues, you can reach out to the district technology team by emailing technosps@smithfield-ps.org. The team is planning on being online to provide support to families.
Bring Chromebooks back to school
We ask that all students bring their Chromebooks back to school on their very next day in school. Please be sure to pack up the charger when bringing back the Chromebook.
Thank you and we're looking forward to working with students during tomorrow's distance learning snow day!
Mr. Barrette