Hello OCRS families,
As we move into October, students are beginning to settle into their classroom routines and are becoming more comfortable with their teachers. The weather is also starting to get cooler, so students should bring a sweatshirt or light jacket to school with them every day. We are going to continue to spend time outside for mask breaks and activities as long as the weather allows, so those sweatshirts and jackets will definitely help!
Back to School Report #7
Like last year, Dr. Paolucci will be sharing a weekly report with Smithfield families to provide the latest information on COVID-19 information and protocols. If you have not already read this week's "Back to School" report shared by Dr. Paolucci, please take a few moments to review it at https://www.smithfield-ps.org/article/549997.
Lunch and Breakfast Menus for October
School lunch and breakfast continue to be free this school year for any student that would like them.
Lunch and breakfast menus can always be found on the school website at https://oldcounty.smithfield-ps.org by clicking on the "Menu" option and selecting dining. For your convenience, I have also linked to the October lunch and breakfast menus. Please be aware, like other school food service programs across the country, the Smithfield Food Service program is experiencing challenges with supply chains and sometimes substitute choices will be offered to students if the choices listed on the menu are not available.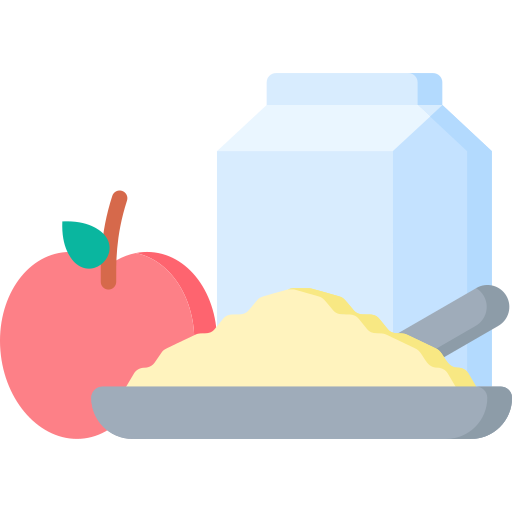 "Rhode to Bicycle Safety" Program for OCRS 5th grade students
Mr. Gruczka has been working hard over the past few weeks to bring a RIDOT sponsored program titled "Rhode to Bicycle Safety" to OCRS for our 5th grade students. This program will take place all through October on Thursdays and Fridays during 5th grade PE classes. Here is a message from Mr. Gruczka talking more about the program!
I am excited to announce a collaboration with the Woonasquatucket River Watershed Council and its Bicycle Program Director, Donny Green, to bring the Rhode to Bicycle Safety Program to OCRS. This program is for 5th graders and will be conducted during Grade 5 PE classes each Thursday and Friday in October. Students will receive a practical education on cycling safety and hands-on practice riding bicycles. Students will also receive a helmet to keep as part of the program.
Bicycles are provided to ride as part of the program so students DO NOT need to bring bicycles to school as part of the program. On PE days please remind your 5th graders to wear cycling appropriate clothing (sneakers, sweatshirts/jackets, pants) as we will plan to be OUTDOORS for the program unless the weather dictates otherwise.
Thanks,
Mr. Gruczka
Online Student Information Update
First, thank you to the many families that reached out to get assistance with their Parent Portal account since last Thursday. If you still have not had an opportunity to take about 15 minutes and update your child's information online using the Parent Portal, please do so ASAP! The district will be closing down the ability to update information on October 6th.
We can help!
If you are a parent that needs your Activation Key to create a Parent Portal account or if you are a parent that already has a Parent Portal account BUT you can't remember your username or password, please email Mr. Barrette (pbarrette@smithfield-ps.org) and he can assist you.
Instructions
The school district is asking all families to update and confirm the information that we have in our information system for your student(s) by 10/6. This is a process that the district undertakes annually and we're using an online process this year that makes things quicker and easier without needing to return paper forms to the school. Here are the types of information that families are being asked to review and update:
Family information
Phone and email contact information
Affirmation of Student policies

Acceptable Use
Equipment Loan
FERPA (Family Education Rights and Privacy Act)

Whether or not you give permission for the school to publish photos of your child on the school website or social media pages
Families will use the Smithfield Infinite Campus Parent Portal to complete the student information review and update process. Please set aside about 15 minutes to complete the online forms. Also, please do NOT use a mobile device to try and complete the online forms. A laptop, desktop computer, or a tablet with a large screen are the best tools to use.
Families can login to the Infinite Campus Parent Portal to complete this annual information review and update process at https://bit.ly/SPSParent.
Families can find instructions on the process and how to login to the Parent Portal at https://bit.ly/SPSParentPortalInstructions.
Incredible Years Parenting Groups at Bradley Hospital
Please see the message below from Dr. Stephanie Shepard Umaschi of Bradley Hospital about parenting groups that are forming for children ages 6-8 years old and 3-5 years old.
We are currently recruiting for upcoming Incredible Years Parenting Groups. The Incredible Years Parenting Group is an evidence-based program designed to strengthen parents' capacity to foster young children's social competence and emotion regulation and to manage externalizing and/or internalizing behavior problems, as well to gain social support, gain confidence, and reduce parenting stress.
The Bradley Outpatient Department will be offering a virtual group for caregivers of children ages 6 to 8 years. This group will begin at the end of October and runs from 12 to 1:30pm on Thursdays. We may offer a group for caregivers of children ages 3 to 5 in the Spring, so please also refer eligible families for either group (children ages 3 to 8).
Please see the attached flyer and enrollment form. Completed enrollment forms can be faxed to 401-432-1506 or emailed to bradleygroups@lifespan.org.
If you have additional questions or want to connect families to other Incredible Years parenting groups in the state, please contact (or have caregivers contact) the IY Parent Group Coordinator at 793-8734.
Thank you!
Stephanie Shepard Umaschi, Ph.D.
Community Workshop: Supporting LGBTQ+ Kids
Please join us for a community workshop focused on supporting the needs of youth who identify as LGBTQ+. The virtual workshop held on October 13th from 6:00-7:00 PM, will be facilitated by Dr. Will Giordano-Perez, Medical Director of Tri-County Community Action Agency specializing in LGBTQ+ care and Clinical Assistant Professor of Family Medicine at Alpert Medical School of Brown University. Register for the event using this link to receive a Zoom link the week of the event. Thank you to Tri-County Community Action Agency for sponsoring this event!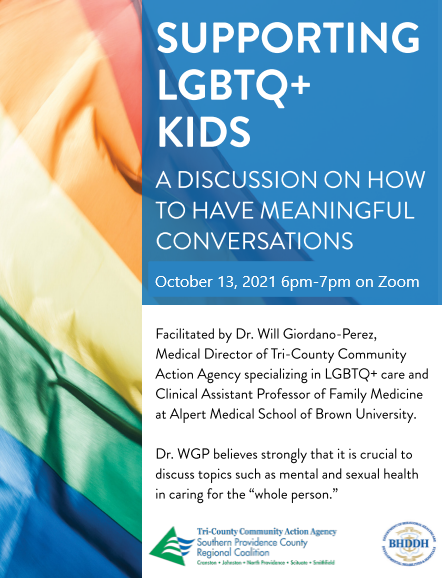 PTA Information
PTA General Membership Meeting, Wednesday 10/6 at 7:00 p.m.
There is a PTA General Membership Meeting scheduled for Wednesday night at 7:00 p.m. This is going to be a hybrid meeting. The meeting will be held in person at the school and will also be streamed online. Here are the two options to attend in person and virtually.
For families that would like to attend the meeting in person, we will be meeting in the new Media Center on the first floor of the school. There will be contractors working in other sections of the building, so we will need to stay just in the Media Center. All people attending the PTA meeting will need to wear masks inside the school building.
For families that would like to attend the meeting virtually, the Google Meet link and joining information is below. This option is for families that cannot attend the meeting in person, are not comfortable attending the meeting in person, or who would prefer not to wear a mask.
Google Meet joining info:
Video call link: https://meet.google.com/uej-xpzz-aho
Or dial: ‪(US) +1 916-318-8929‬ PIN: ‪933 267 596‬#
OCRS PTA Membership
The Old County Road School Parent Teacher Association (OCRS PTA) would like to welcome everyone back this school year and extend warm greetings to those parents that are new to the school. We are fortunate to be part of a great school, with amazing teachers, and dedicated parents all working to support the educational experience of our children.
Please the linked OCRS PTA Membership form for information on how to join!
Upcoming Dates and Events
View and subscribe to the OCRS Public Events Calendar at https://oldcounty.smithfield-ps.org/o/old-county-road-elementary/page/monthly-calendar. Clicking on the "Add to Google Calendar" to subscribe to the calendar on your own calendar app.
PTA General Membership Meeting, Wednesday October 6th at 7:00 p.m.
NO SCHOOL, Columbus Day, Monday October 11th
Flu Clinic, Monday November 3th from 4:00 p.m. to 7:00 p.m.
School Picture Retakes, Monday November 8th
NO SCHOOL, Veterans Day, Thursday November 11th
NO SCHOOL, Professional Development, Thursday November 18th
NO SCHOOL, Thanksgiving Recess, Wednesday November 24th through Friday November 26th
Thank you,
Mr. Barrette