Hello OCRS families,
There are lots of events and field trips coming up in the next 8 weeks, so keep an eye out for these weekly update email messages, as well as messages from your child's teachers.
OCRS' Got Talent!
We are bringing back an OCRS tradition by having a "talent show" type event at the end of the school year! This event is "OCRS' Got Talent!" and is going to be held on Friday, May 26th at 6:00 PM in the Smithfield High School Auditorium. This event will be organized by Mr. Barrette and Mrs. LaGreca.
Here are the details
The event will be free and open to ALL OCRS families to attend, even if you do not have a student performing. We would love to have lots of OCRS families and friends in the audience!
ONLY students in the 3rd, 4th, and 5th grades will be eligible to perform in the event. Students can perform solo or with a group. Performances can be musical, dance, comedy, magic, lip-sync, drama, etc.
Students will have a maximum of 3 minutes for their performance and they will need to get their performance pre-approved by Mr. Barrette. This will make sure that all material is appropriate for an elementary aged audience.
If any 3rd, 4th or 5th grade student would like to sign up to perform, please complete this online form. Mr. Barrette and Mrs. LaGreca will touch base with the student and schedule a time for the student to preview their performance for approval for the show.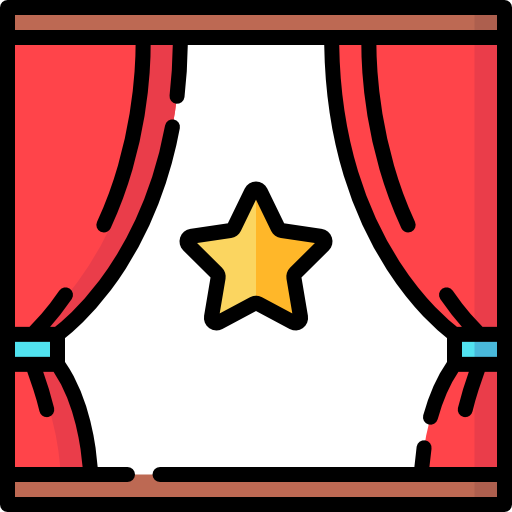 Family After Dinner "Sock Hop" Dance
The PTA is hosting a family after dinner "Sock Hop" dance on Saturday, April 29th from 6PM to 9PM in the OCRS gymnasium. This is an event for students and their families to attend together and NOT a drop-off event. The cost of the event is $10 for adults and $5 for kids. Kids under 3 years old are free. Families can pay at the door via cash or check.
The event will feature a DJ and a photographer! Beverages and light refreshments will be served. Come dressed in your best "sock hop" or dapper attire. To protect the beautiful new gymnasium floor, we ask that everyone wear soft sole shoes; please do not wear high-heeled shoes.
Families need to register online at https://forms.gle/sMv3Q6jgjPMN69jXA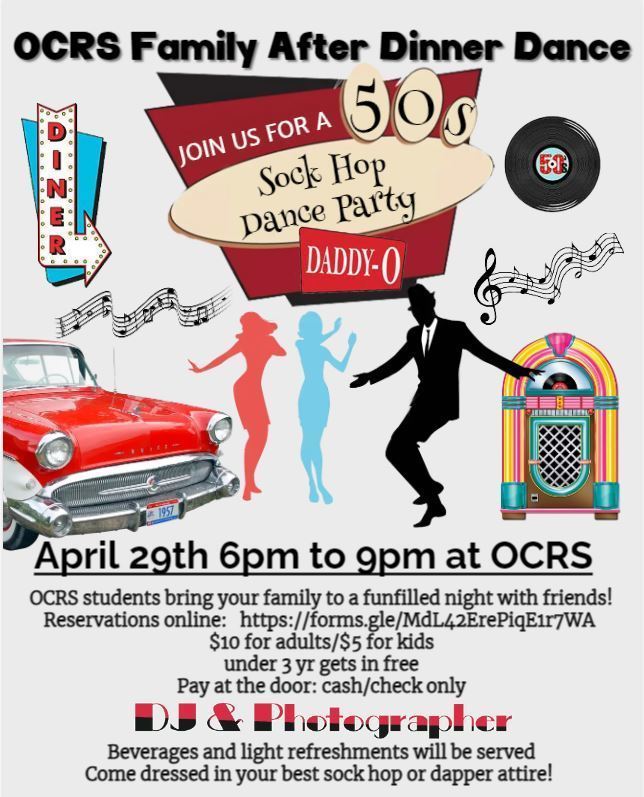 D.A.R.E. Skate Night for Smithfield 5th graders
The Smithfield Police Department invites all 5th graders to join them for a free Skate Night at the Smithfield Ice Rink on Thursday, April 27th from 5:00 PM to 7:00 PM. There will be skate rentals available for students that need them. Ice time is reserved for Smithfield 5th Grade D.A.R.E. students only, so it's a great opportunity to have some fun with friends across all schools!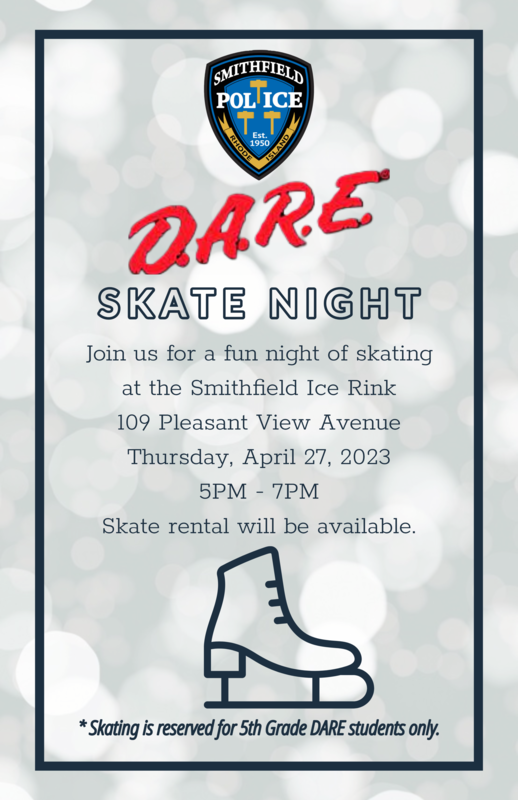 Poster Contest: Grateful for Clean Water
Students in K-6 who reside in Providence, North Providence, Johnston, Central Falls, Lincoln, Pawtucket, Cumberland, Cranston, Smithfield, or East Providence are invited to create a poster to illustrate a way that they are grateful for clean water. This contest is sponsored by the Narragansett Bay Commission. Posters are due by May 5th. Full rules and contest details can be found here.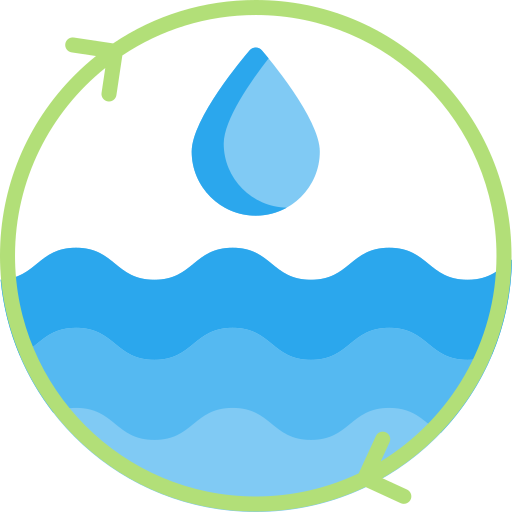 NAMI-RI: Family-to-Family Course
The Rhode Island chapter of the National Alliance on Mental Illness is now accepting registration for our next virtual Family-to-Family course which begins Wednesday, April 26, 2023. This is a free, 8-session educational program for family, significant others and friends of people with mental health conditions. It is a designated evidenced-based program, which means that research shows that the program significantly improves the coping and problem-solving abilities of the people closest to a person with a mental health condition. NAMI-Rhode Island's Family-to-Family course is taught by trained family members who have lived experience with a loved one, and includes presentations, discussions and interactive activities.
For more information on the Family-to-Family course and to register, visit namirhodeisland.org or call 401-331-3060 or email beth@namirhodeisland.org.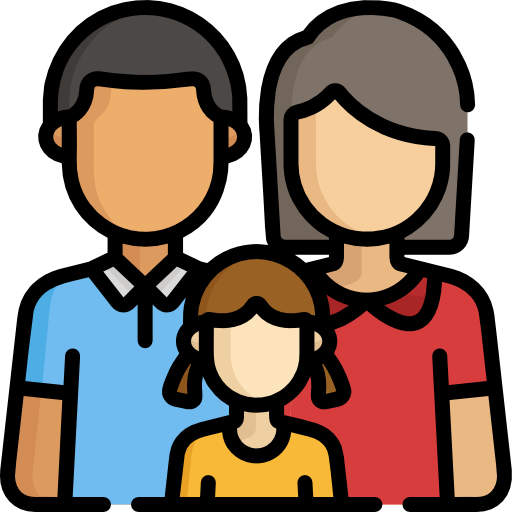 Summer Camp CONNRI
The Salvation Army is offering Camp CONNRI this summer. The camp is being offered across multiple weeks and the deadline for registration is May 26th. The cost is $25 per child with a maximum of $50 per family. Please see the attached flyer for more information or contact the Providence Salvation Army at 401-831-1119.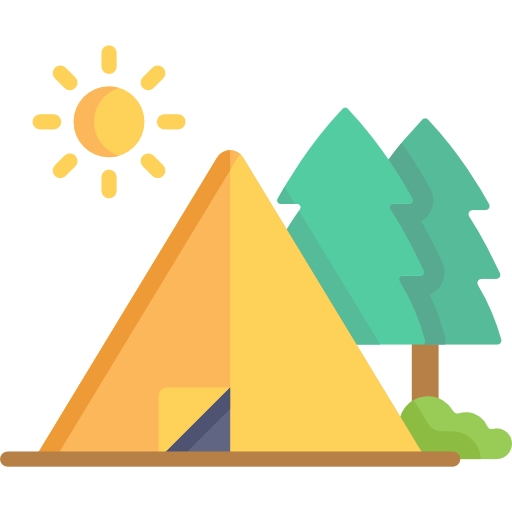 Upcoming Dates and Events
View and subscribe to the OCRS Public Events Calendar at https://oldcounty.smithfield-ps.org/o/old-county-road-elementary/page/monthly-calendar. Click on the "Add to Google Calendar" to subscribe to the calendar on your own calendar app.
5th Grade D.A.R.E. Ice Skating Party, Thursday April 27th at 5:00 PM at the Smithfield Ice Rink
PTA "Sock Hop" Dance, Saturday April 29th at 6:00 PM in the OCRS gymnasium
PTA General Membership Meeting, Thursday May 4th at 6:00 PM
Teacher Appreciation Week, May 8th through May 12th
Math RICAS Testing, May 10th & 11th
5th Grade Science Testing, May 17th & 18th
NO SCHOOL, Memorial Day, Monday May 29th
Thank you,
Mr. Barrette
---
Art Show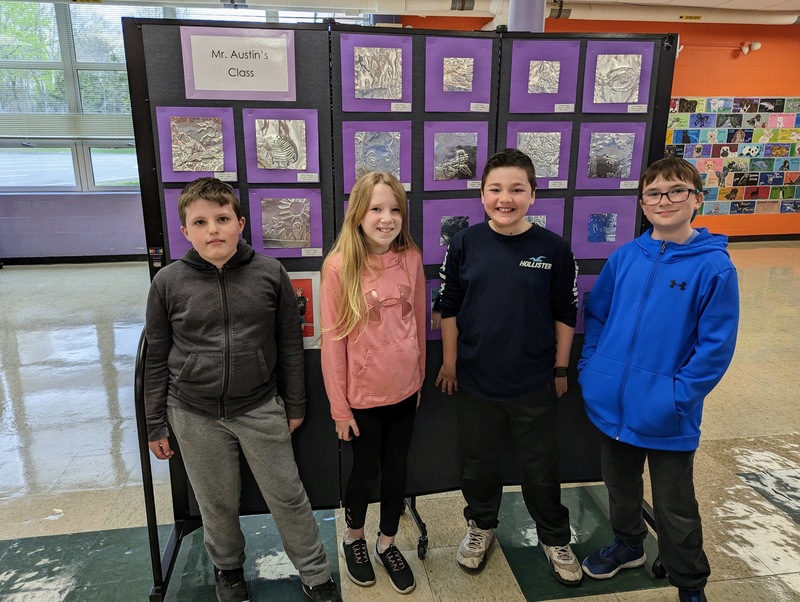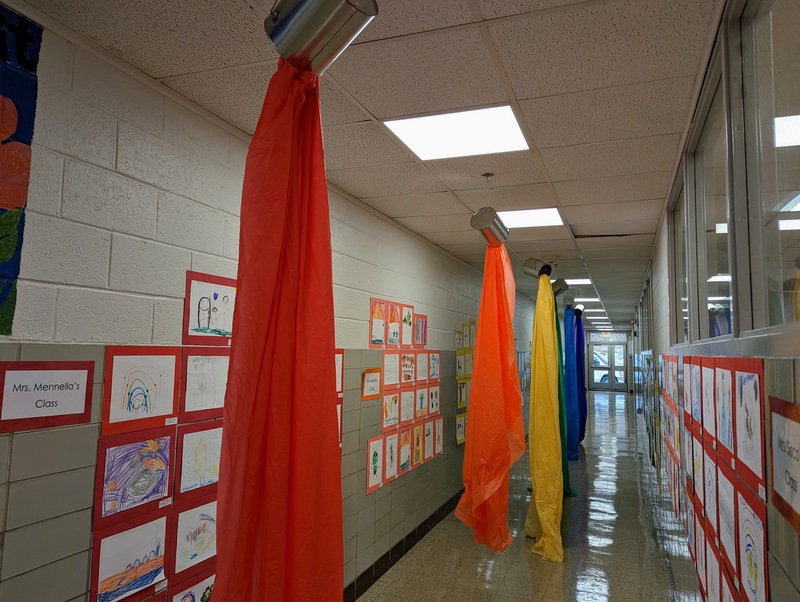 Enjoying Outdoor Recess