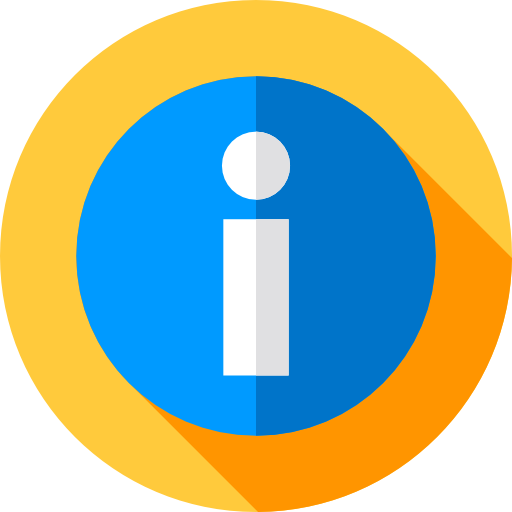 Getting prepared to return to school on Monday, 1/11
Paul Barrette
Friday, January 08, 2021
Hello OCRS families,
We are making the shift back to in-person learning this Monday, 1/11. It's been a few weeks since any students have attended school in-person, so I thought it might help to share some information and reminders to get prepared for Monday and to ensure that we keep students and staff safe and healthy. Families that chose virtual learning will shift back to the virtual learning schedule on Monday.
As a school community, OCRS did a tremendous job following the COVID guidelines and it really showed with very few confirmed cases of COVID since September. Our goal is to continue being conscientious and consistent in how we follow the health and safety guidelines and we appreciate the cooperation and support of our students and families.
Masks for Students
Like before the Holiday Break, students will wear a mask all day while at school. The only time that students are allowed to remove their masks is when they are eating. Because most students probably have not needed to wear a mask while at home during the Holiday Break, it may be a good idea to practice a bit wearing a mask this weekend to get used to wearing one again. Our students handled this very well since school opened in September, so we anticipate that will continue.
Families should send students to school with at least one clean mask every day. If a student needs a mask, the school will be able to assist. Per CDC guidance, bandanas and neck gaiters are not recommended as face masks. Cloth face coverings need to be at least two layers thick and should also fit snugly around the nose (very important), mouth, and chin. Masks should not have any sort of valve or vent as these can allow for droplets to pass through the mask when we exhale. Face shields can be worn in addition to a mask, but a face shield does not replace the need to wear a mask.
Daily Health Screening Ticket
Please make sure to have a completed Daily Health Screening ticket ready each day for each of your children. Each child will receive a new packet of tickets each Friday. Blank tickets are linked above for any family that needs them. It's OK if you print them on white paper. Students exhibiting any illness symptoms should remain at home and not attend school.
Quarantining After Out of State Travel
In order to keep all students and staff at OCRS safe, students that travel out of state MUST quarantine upon return to R.I. before being able to return to school in-person. According to the R.I. Department of Health guidance, students must quarantine for 14 days upon returning from any state that is listed on the RIDOH website at https://covid.ri.gov/protect-your-household/travel-tofrom-ri. Smithfield does not accept a negative COVID test in lieu of the quarantine due to the fact that an infected person can become contagious any time two days prior to symptom onset and 10 days after symptom onset.
Students that need to quarantine can switch to virtual learning during the time in which they are quarantining to ensure that they do not miss out on their learning. We will be happy to work with any family to develop a plan for their child upon returning from out of state travel.
Morning Drop-off and Afternoon Pick-up
School begins at 8:10 a.m. and ends at 2:40 p.m. Doors will not open in the morning prior to 8:10 a.m. and before school supervision of students by staff is not possible. Because there are many families that need to drop-off their children each morning and pick-up their children each afternoon, it's important that we follow a specific traffic pattern to safely accommodate cars and school buses.
Parent vehicles will enter the campus using the entrance on the right (north) side of the building. Please use the lane on the left side of the entrance (school buses will use the right lane).
Once you have entered the parking lot, parent drop-off will stay in the left lane while school buses will stay in the right lane. School buses will continue around the outside of the parking lot.
A staff member (most likely Mr. Barrette) will be standing near the end of the loop to direct traffic. When signaled by the staff member, parent vehicles will continue to proceed behind the school around the outside of the parking lot. Parent vehicles will continue completely around the building and turn left at the end of the building.
After turning left, a student drop-off zone has been clearly marked with cones right in front of Door 5. Students will exit their parent's vehicle and proceed directly to the school staff members who will be waiting to collect their daily health screening ticket.
When the student has safely entered Door 5, the parent vehicle will proceed to exit the campus using the entrance on the left (south) side of the building near the construction.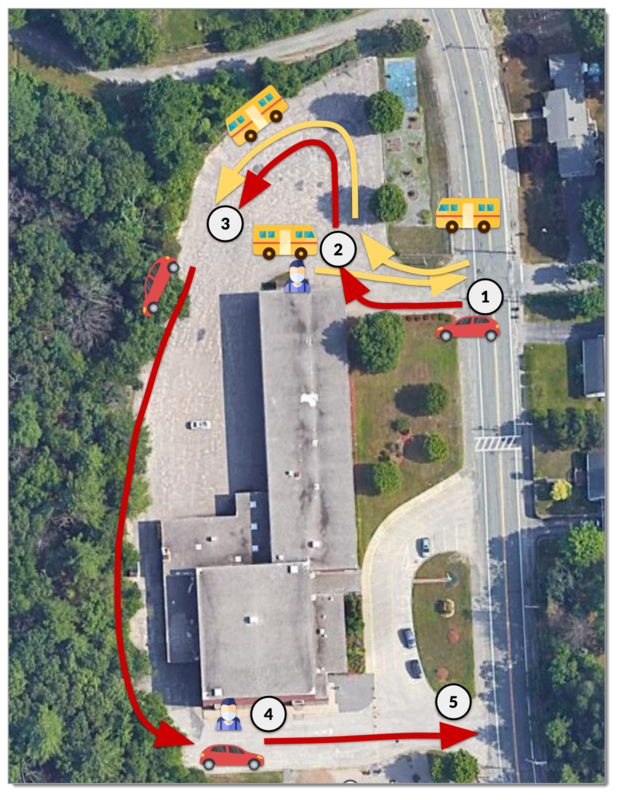 As always, if you have any questions or concerns, please feel free to contact us and we will do our best to help.
Thank you,
Mr. Barrette