Update for the Week of August 16th
Paul Barrette
Monday, August 17, 2020
Hello OCRS families,
It's been so nice to have some cooler temperatures these past few days and the weather today was just spectacular! I hope that you have been able to get outside for at least a little bit to enjoy this beautiful Monday.
Return to School Report #9
On Sunday Dr. Paolucci shared the ninth Smithfield "Return to School Planning Report" with all Smithfield families. If you have not yet read it or if you did not receive it, I strongly encourage you to read the weekly report in its entirety at https://www.smithfield-ps.org/article/287678.
Virtual Learning Option
Due to the Governor pushing the start date for school to September 14th, the district wanted to give families a little additional time to submit a late registration for their child to participate in the "Virtual Learning Option". If you did not already fill out the online form and you would like your child to participate in the district's Virtual Learning Option, please go to the link below to register your child. IF YOU HAVE ALREADY REGISTERED FOR THE VIRTUAL OPTION AND WISH TO KEEP IT THAT WAY, PLEASE DO NOT FILL OUT THE FORM LINKED BELOW.
https://docs.google.com/forms/d/e/1FAIpQLSf5NmYMKGGs2rq685vBVLzLgIYNjJ0iQ0nJ3iFQ25mtUH5euQ/viewform
OCRS Online Family Forum
All six Smithfield schools are hosting online Family Forums this week to provide an opportunity for principals to share specific information with our students' families and to allow families to ask questions. We know that it has been challenging for families to make plans for the beginning of the school year. We want to do everything we can to share the latest information we have with all of our families.
The OCRS online Family Forum is scheduled for Wednesday, August 19th at 7:00 p.m.
To join the OCRS Family Forum from your computer, tablet or smartphone, go to:
https://www.gotomeet.me/barrettep/ocrs-family-forum
You can also dial in using your phone.
United States: +1 (571) 317-3112
Access Code: 635-114-205
If you would like to submit a question to be addressed during the OCRS online Family Forum, please click the link below to submit your question.
https://forms.gle/iLpcWiLPm6nGBbcG8
Each Smithfield public school will also be publishing a list of "Frequently Asked Questions (FAQ)" to each school's website to make information available to families. Your question may be added to the FAQ if it's something that a number of other families are also asking about. These FAQ documents and pages will be updated as new guidance and guidelines are released by the Governor, the R.I. Department of Health, and the R.I. Department of Education.
Who's under that mask?
The most current guidance from the R.I. Department of Education is that all students and staff are required to wear masks while at school to mitigate the risk from COVID-19. We know that this may be challenging for some students, so it's important that we all begin to practice now to build up our endurance and get used to wearing a mask throughout the day.
As a school, we want to make this message as positive as possible, especially for our youngest students, so we are launching the "Who's under that mask?" campaign for OCRS. Once a day during the next few weeks we will publish a "Who's under that mask?" post on our school Facebook and Twitter pages. Families are encouraged to guess "Who is under that mask?" in the comments (if you are comfortable doing so). The next day, we will publish the answer and a new "Who's under that mask?" picture. Hopefully, this approach will help our students get used to seeing OCRS teachers and staff members wearing masks and encourage them to practice their own mask wearing.
Here is the very first OCRS "Who's under that mask?"
Can you guess who it is? (This person definitely has too much hair to be Mr. Barrette) Look to the school Facebook page for the answer tomorrow!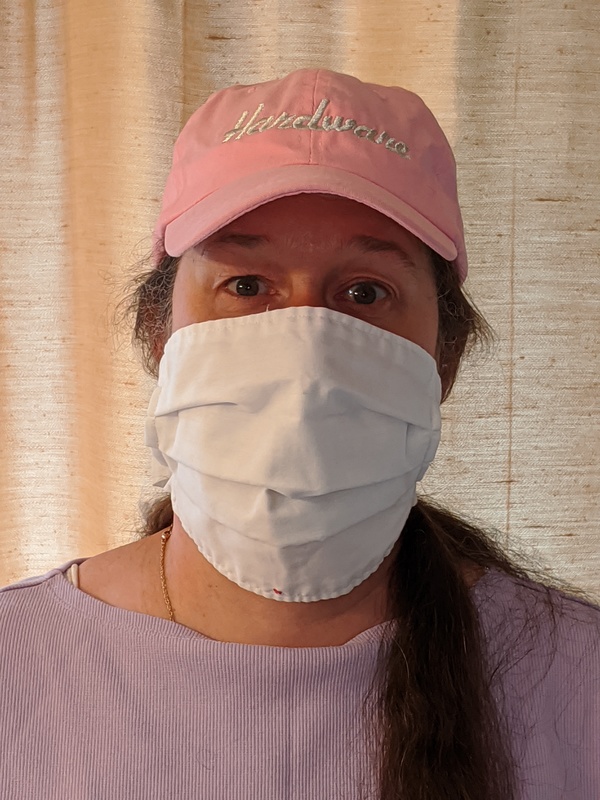 Thank you for your continued support and flexibility during this challenging time. All of the OCRS teachers and staff appreciate the positive outlook that OCRS families are taking towards the new school year. No matter what return to school scenario the Governor chooses, we are looking forward to reconnecting with all of our past students and meeting our new students!
Sincerely,
Mr. Barrette
Please keep an eye on the "News" section of district and OCRS websites, as well as our Facebook pages for the most up to date information.
Smithfield Public Schools website "News", https://www.smithfield-ps.org/news
Smithfield Public Schools Facebook page, https://www.facebook.com/smithfieldschools/
Old County Road School website "News", https://oldcounty.smithfield-ps.org/news
Old County Road School Facebook page, https://www.facebook.com/OldCountyRoadSchool/