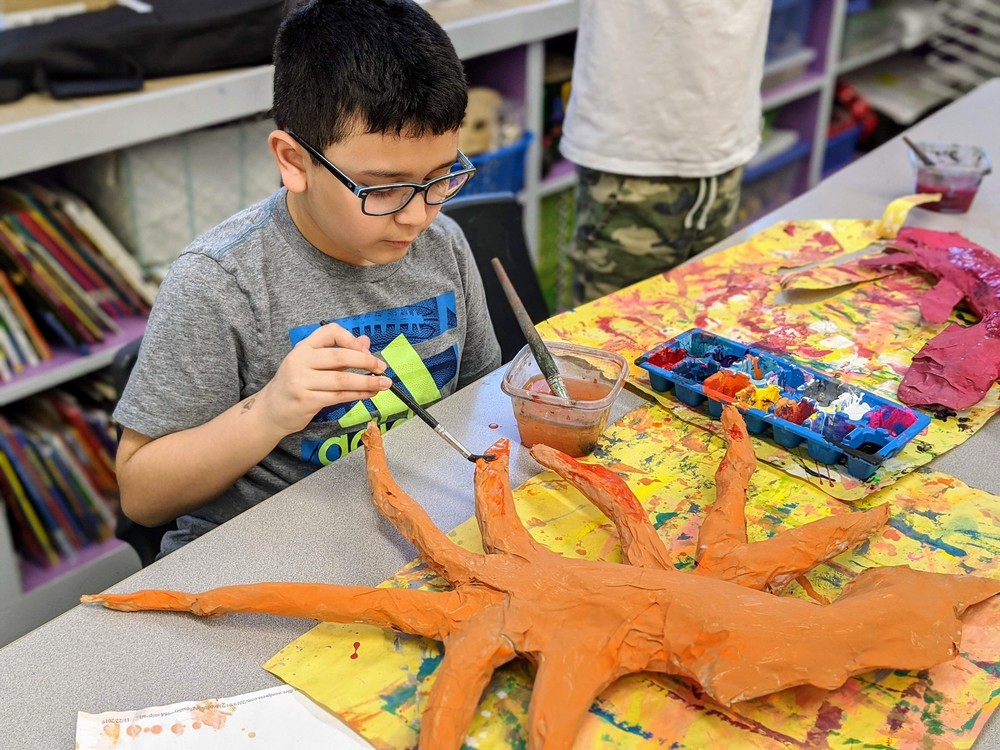 Update for the Week of March 2nd
Paul Barrette
Sunday, March 01, 2020
Hello OCRS Families,
It's hard to believe, but March is here and we will soon be moving the clocks forward and looking at the first day of Spring!
Important Information
Coronavirus information from the RI Department of Health
In light of the Centers for Disease Control (CDC) February 25th press conference which updated the country on the current status of the 2019 Novel Coronavirus (2019-nCoV), we would like to share with you some information and tips to help prevent the spread of illness within our community.
We are continuing to monitor developments and how they determine our course of action. We welcome your active participation in sharing with your children the importance of daily health practices to combat the spread of sickness. They include:
Get your flu shot and encourage the people around you to do the same.
Wash your hands often throughout the day. Use warm water and soap. If soap and water are not available, use alcohol-based hand gel.
Cough or sneeze into your elbow. Flu is spread through coughing or sneezing on other people or into your hands.
Avoid touching your eyes, nose, or mouth. Germs spread this way.
Get plenty of sleep, be physically active, manage your stress, drink plenty of fluids, and eat nutritious foods.
Keep surfaces (especially bedside tables, surfaces in the bathroom, and toys for children) clean by wiping them down with a household disinfectant.
Keep your child home if your child has a temperature above 100°F, or showing other signs of flu, (We ask that students show 24 straight hours of non-medicated good health before returning.)
We continue to work closely with our town officials and the Rhode Island Department of Health in planning potential responses should the virus begin to spread in the United States. Thank you for your support and we will keep you updated on any changes to upcoming events or school activities if needed.
For your convenience, we have provided a flyer linked below from the Rhode Island Department of Health and their website landing page with more information.
https://health.ri.gov/diseases/respiratory/?parm=163
https://health.ri.gov/publications/factsheets/novel-coronavirus.pdf
Also, Mrs. Forte would like to share this "kid friendly" video about the coronavirus if families are looking for a way to have discussions with their children about what is going on:
https://www.brainpop.com/health/diseasesinjuriesandconditions/coronavirus/
Kick-off of "Be RESPECTFUL"
After the holidays, we rolled out the new school motto, "Be Your BEST at OCRS!" and the new school rules, Be KIND, Be RESPECTFUL, and BE RESPONSIBLE. As a school, we spent the weeks prior to the February Break focusing on "Be KIND" with a number of activities and celebrations during School Meeting.
This past Wednesday, we shifted our school wide focus to the second rule, "Be RESPECTFUL" with a special School Meeting and Dance Party celebration. We talked about what being respectful might look like at school and each class worked together to come up with ideas about WHO we should be respectful to, WHEN/WHERE we should be respectful, and HOW we should be respectful. Each class put together lists which we combined into giant posters that are displayed right next to the gym. Also, over the next two weeks, Kindergarten, 1st grade, and 2nd grade classrooms will be partnering with 3rd grade, 4th grade, and 5th grade classrooms to engage in activities around being respectful.
We invite families to support our efforts here at school by talking with their children at home about "what does it look like to be kind, respectful, and responsible?" and asking their children to talk about some of the things that are happening at school. Our goal is, as an entire community, to make OCRS the absolute best school it can be and help our students to not only be academically successful, but to also be terrific citizens.
Welcome to Mrs. Fogarty and Miss Chabot to OCRS!
As 2nd grade and 4th grade families know, Mrs. Campbell's and Mrs. Allen's last day at OCRS for this school year was Friday, February 28th. Mrs. Campbell is beginning her retirement and Mrs. Allen is going on maternity leave. We are fortunate to have Mrs. Fogarty beginning as the long-term substitute in 2nd grade and Miss Chabot beginning as the long-term substitute in 4th grade. Both Mrs. Fogarty and Miss Chabot completed long-term substitute positions at Winsor School earlier this year and come to us recommended.
Mrs. Fogarty and Miss Chabot each spent an entire day in the classrooms last week to learn the classroom and school routines, and get to know the students. Both Mrs. Deslauriers and Mrs. Paolino will be available to serve as resources for them throughout the rest of the year. Please join me in welcoming Mrs. Fogarty and Miss Chabot to OCRS!
Update on School Safety procedures after student left school grounds
As you know, prior to February Break, one of our students left the school grounds at the end of recess. Thanks to the immediate response of Old County Road School staff and the incredible support of the Smithfield Police and Fire Departments, the student was found safe. Even with the best plans and procedures, we know that any school safety incident can be upsetting, so I wanted to share what work the school and school district have been engaged in since the incident.
As part of the regular follow up after any school safety incident, Mr. Barrette and Dr. Paolucci met and debriefed with Smithfield Police, Fire, and Safety personnel to review what took place, the response of all school and town staff, and the established safety procedures. After this meeting, the OCRS Safety Committee also met to discuss the incident, as well as the information that was shared during the debriefing with Smithfield Police, Fire, and Safety personnel. All of the information from these meetings and discussions was organized and shared with all OCRS staff, as well as with Dr. Paolucci and Dr. Monaco.
As a school, we reviewed established safety procedures with all staff and students, with a particular emphasis on making sure to encourage students to tell an adult right away about anything they may hear another student talk about that seems to be unsafe. Talking to a trusted adult (including parents and family members) about things that don't seem to be right is one of the most important and effective things that every student can do to help keep themselves and their friends safe. We have also made some adjustments to our recess procedures based upon what we learned from the incident and from staff suggestions. Some of those changes are:
Establishing a single and consistent "attention" signal to be used by all staff at all recesses to simplify the process to getting the students' immediate attention when outside. Because this is a new procedure, we will continue to practice it until all students are comfortable.
Practicing a procedure to bring students in from recess or the playground in a safe, quick, and organized manner if there is ever a safety concern. This procedure will be regularly practiced, similar to other safety drills.
Making adjustments in the areas on the playground where students can play to ensure that they are fully visible to staff members outside at all times.
We cannot express enough thanks to the members of the Smithfield Police and Fire Departments for their assistance. We are extremely fortunate to have such a great partnership between our school and the safety officials in our community. I would also like to personally thank all of the staff and teachers at Old County Road School for their immediate and thoughtful response to the situation.
PTA "Pea Poddery" Family Pottery Night
The OCRS PTA is hosting a "Pea Poddery" Family Pottery Night on Friday, March 27th from 6:00 p.m. to 7:00 p.m. in the OCRS cafeteria. Please see the attached flyer for additional information.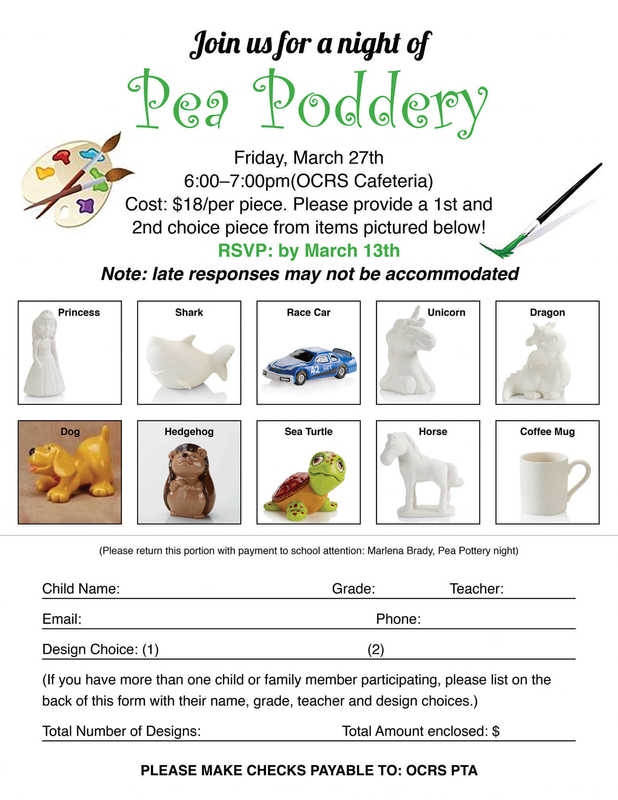 Upcoming Dates and Events
OCRS Spirit Day, Monday March 2nd
Each and every Monday we are encouraging OCRS students and staff to wear their OCRS Spirit Gear to school! Don't forget that the PTA launched the new OCRS Spirit Wear website at https://jandrstores.com/oldcountyroad/
Smithfield Special Education Local Advisory Committee, Thursday March 12th from 6:30 p.m. to 7:30 p.m.
A meeting of the Smithfield Special Education Local Advisory Committee is scheduled to be held on Thursday, March 12th from 6:30 p.m. to 7:30 p.m. at LaPerche Elementary School. All district families are welcome!
2nd Trimester Progress Reports, Wednesday March 18th
2nd Trimester Progress Reports are scheduled to be sent home with students on Wednesday, March 18th.
PTA Family Pottery Night, Friday March 27th from 6:00 p.m. to 7:00 p.m.
The OCRS PTA is hosting a "Pea Poddery" Family Pottery Night on Friday, March 27th from 6:00 p.m. to 7:00 p.m. in the OCRS cafeteria.
Follow OCRS Online and on Social Media
To stay up to date with the latest OCRS information, please check out the OCRS website at https://oldcounty.smithfield-ps.org. Also follow OCRS on our Facebook page at https://www.facebook.com/OldCountyRoadSchool/, our Twitter feed at https://twitter.com/OldCountyRoad, and our Instagram page at https://www.instagram.com/oldcountyroad/
"Be RESPECTFUL" kick-off School Meeting and Dance Party